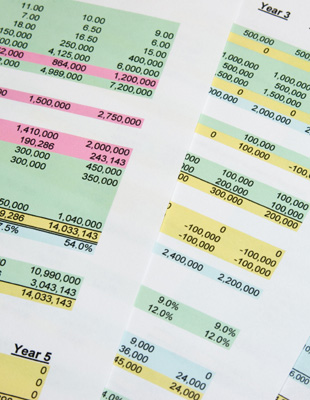 Annual Accounts Preparation
Every business needs to produce accounts in some shape or form depending on their size and structure. The format of the accounts varies between Sole Traders, Partnerships and Limited Companies. The basic elements of a set of accounts include a profit and loss account showing a business's performance and a balance sheet showing net worth.
For Limited Companies and Limited Liability Partnerships (LLPs) statutory accounts are required and must be in accordance with accounting standards. A copy of the accounts must also be filed with HM Revenue & Customs and Companies House where they are held on the public register.
Whatever accounts are required we will ensure that they are completed promptly and correctly in accordance with UK accounting standards. As every business is different we can also help show you what we need to prepare the accounts to ease the burden from you. As part of your first meeting we will discuss what books and records we need to prepare your accounts. Then after the first year we will review this with you so that we can make the process as straight forward for you as possible.
Management Accounts
As annual accounts are historic often business's need up-to-date figures showing their current position. Management accounts can be prepared at any time during a business trading year and can be key for the decision making processes required to successfully run a business. Often banks will be interested in a business's management accounts when considering lending. In addition up-to-date accounts can help business plan their expenditure and manage their up and coming tax bills.
Rental Accounts
If you have a rental property including a "buy to let" or holiday let then accounts are also required in the form of a basic income and expenditure account. These accounts form the basis of the entries that need to be made on your Self-Assessment tax return. The income and expenditure account will show total rent received less expenses that are allowable to for tax. If the property is owned jointly then the income and expenses are split for each person.